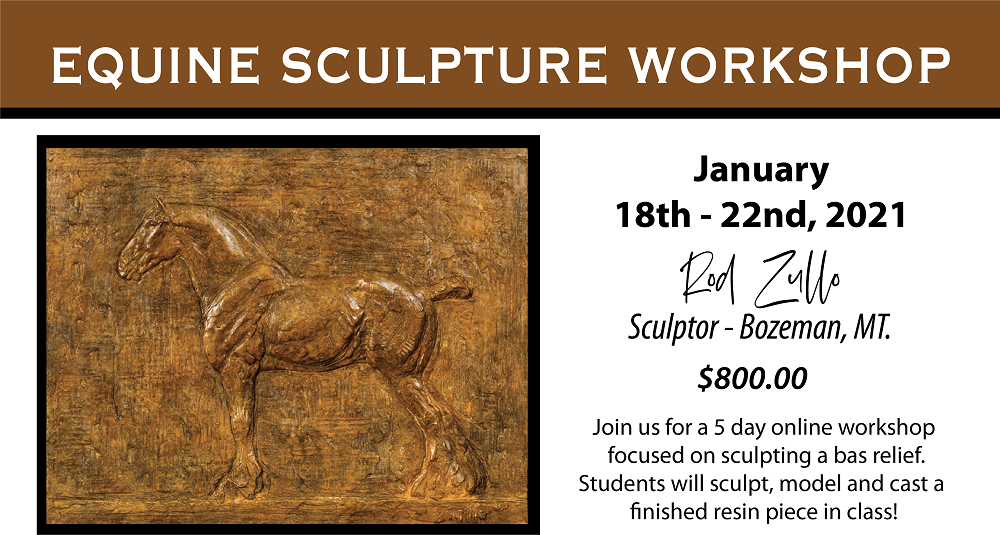 Bas Relief Sculpting with rod zullo!

Join Us for our Virtual Sculpting Workshop with legendary sculptor Rod Zullo

Jan 18-22, 2021 1pm - 3pm EST Daily
Class size is limited, so register today!
$800 per person
Registration Closes on Jan 12th
*Participant is responsible for ensuring the proper technology setup to participate in these virtual Zoom Meetings as well as necessary supplies for the workshop. A supply list will be sent to each participant with ordering recommendations.
Workshop Overview
Each student will sculpt, model and cast a finished resin piece in class.
The workshop consists of five, 2-hour blocks of live instruction using virtual meeting platform. In between each session, each participant will have "homework" to complete to progress their sculpting piece to the next level in preparation for the next session.
Each 2-hour session will take place over Zoom. They will be a live session as well as recorded so you can go back and review any session as you desire. You will be able to ask questions real time. We encourage all participants to have video capabilities available so they can show their work to Rod and the other participants.
After the end of the workshop, each participant will have approx. 1 hour to work with Rod on a one-to-one basis.
Workshops we anticipate conducting in 2021 include Sculpting, Photography, Painting and more....
Sculpting - Led by Rod Zullo, Equestrian & Wildlife Artist
Sculpting - Led by Andrew Cawrse, Human Anatomy Expert and Sculptor
Photography - Led by Scott Pearson, Wildlife to Fashion, Scott has captured it all in his brilliant photos
Join our newsletter to get the latest information on planned workshops plus the latest news from Tammy and the Equestrian Artists of Tryon.